UPDATED October 2022
Engaging Real Estate Content for Social Media
The struggle is real. You're promoting real estate on social media but you're just not seeing much engagement. It's a complaint we hear from real estate agents every day.
Coming up with engaging real estate posts is tough.
And engagement is critical for the overall success of your social media. Because the more people like, comment and share your posts, the more people Instagram and Facebook will show them to, therefore getting you in front of more potential buyers and sellers.
We're going to give you nine simple ideas for real estate content that will generate engagement. Post ideas that you can begin implementing right away.
9 Post Ideas for Realtors
1. To market real estate on social media is to market yourself
Pictures of you will ALWAYS generate the most engagement. Unquestionably, people want to do business with people, not faceless corporations. Your goal, whether it's Instagram or Facebook for real estate, is to help people get to know, like and trust you, and that only happens by actually showing them who you are. So, post more photos of yourself!
2. Implement video into your social media strategy
If engagement is what you're after on social media, the use of video is key. According to a study by BuzzSumo, video posts on Facebook get at least 59% more engagement than other types of post, outperforming photos by 73%.
But, it's important to look beyond just your listing videos. Include videos that show off neighborhood amenities and, most importantly, videos of you that show people what it's like to work with you, your interests and passions.
3. Ask engaging questions
Engaging real estate questions for social media are ones that people want to answer. And they don't necessarily have to be about real estate.
People love to talk about themselves, so post engaging questions like,
"What city were you born in?" or
"If you had followed your childhood dream, what would you be doing today?"
Likewise, ask people for their opinions. Questions like,
"Does a master bath need a tub, or is just a shower ok?" or
"Is it ever ok to eat pizza with a knife and fork?"
Again, engaging real estate questions for social media don't need to be all about real estate.
The goal is to generate engagement, not to sell houses. That will come once you've built up your know-like-and-trust factor.
CANVA.com is an easy-to-use graphics tool that we use regularly, and it's perfect for creating question posts.
4. Share inspiring quotes
Inspirational quotes are extremely popular and are ideal for promoting real estate on social media. Share ones that you've found meaningful or that have already been proven to generate engagement.
It's ok to share a quote you find on someone else's profile. Just be sure to credit them for it. Even better would be to create a new graphic for the quote that fits your brand style. Again, CANVA.com makes this easy, and they have a number of quote templates you can customize to suit your brand. Below is an example of one we've created using Canva and posted to our own social media profiles.
5. Comment more than you post
Engagement generates engagement, so spend at least 15 minutes a day commenting on other people's posts, focusing primarily on the people in your sphere of influence. Don't just go in and like their posts, however. Instead, post a sincere comment of at least 5-10 words.
If you see that someone is celebrating a birthday for example, instead of saying, "Happy Birthday," say "Happy Birthday Sally. What are your plans for the day?" They'll appreciate (and likely respond to) your comment and you'll stay top-of-mind with your sphere.
6. Include a call-to-action
Always include a call-to-action in your real estate social media posts. In other words, tell your followers what to do. It can be a simple "double tap if you like this light fixture in my new listing," to "share this quote with someone who needs to hear it" to "save this real estate tip for when you start your search."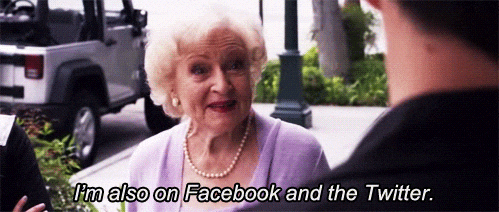 7. Don't post and ghost
To successfully market real estate on social media, and to see engagement, you can't just post and forget about it; you've got to actively reply to comments. Especially if you've posted a question. A few keys to making it work:
Firstly, reply to EVERY comment.
Secondly, post your real estate social media posts at a time when you'll be available to reply. It's especially important to reply to comments that come in within the first hour of posting.
Thirdly, set up alerts so that you're notified when someone comments on your post.
Lastly, reply to a comment with a question to keep the conversation going. For example, when someone replies to your request for a restaurant recommendation, ask them what they like to order there.
Consequently, the more conversation Facebook and Instagram see on your posts (especially in the first hour), the more people they'll show them to.
8. Use story stickers
When creating Instagram and Facebook Stories, stickers are a great way to generate engagement. Either polls or questions can generate comments. Additionally, interactive stickers like quizzes and emoji sliders also count as engagement. Anything that gets the user to take a quick action while viewing your story.
9. Real estate poll questions
A powerful way to generate engagement is by using the poll sticker to create real estate poll questions on Facebook and Instagram. Poll questions only require the user to click a button – choosing between 2 options, often just a "yes" or "no." When the poll is done after 24 hours, you can turn around and create another post sharing the results.
Real estate poll questions can of course be about real estate, but no matter the subject, they should always elicit an opinion.
Ideas include:
Hot tub or pool?
Deck or patio?
Hardwood or carpet?
Quartz or tile?
---
Your poll questions can also be completely unrelated to real estate. Asking about personal preferences is a powerful way to generate engagement.
Ideas include:
Cats or dogs?
Cake or pie?
Mountains or beaches?
Waffles or pancakes?
Summing it up
In conclusion, generating engagement while you promote real estate on social media doesn't have to be a struggle. It just takes the right types of real estate social media content.
Free Real estate social media posts
Looking for a few real estate social media posts you can use on your own social profiles? Visit our free content page where we share real estate social media posts you can use in your own business. They're updated every week!
---
Check out these resources to help you rock your social media:
For further reading:
Disclosure: This post may contain affiliate links meaning, at no additional cost to you, I will earn a commission if you click through and make a purchase.